Due to the tax-advantaged nature of your account, the IRS has guidelines in place to ensure that purchases made with the account are for eligible medical, dental, or vision expenses. The Ameriflex Debit Mastercard® attempts to auto-verify all transactions instantly using stored copays, stored recurring expense values, electronic data feeds, and Inventory Information Approval Systems (IIAS). If the transaction cannot be auto-verified at the point of purchase, this is normally because the merchant's (e.g. hospital) payment terminal can't distinguish if the transaction was for surgery (eligible) or flowers from the hospital gift store (not eligible).
If Ameriflex cannot auto-verify your expense, you will receive a notification asking for additional documentation such as an itemized receipt, Explanation of Benefits (EOB), or a letter of medical necessity.
Tip: Take a photo of your itemized receipt or EOB when you receive them, so you can easily access them later on for reasons like this one.
---
Submit documentation
You can upload and submit documentation from your desktop.
1. From your Ameriflex account, locate the expense requiring documentation.
Note: If you are uploading additional documentation for an expense, you will see Waiting for Documentation next to it.
2. Click Add Documentation located to the right of the expense.

3. Click Upload File.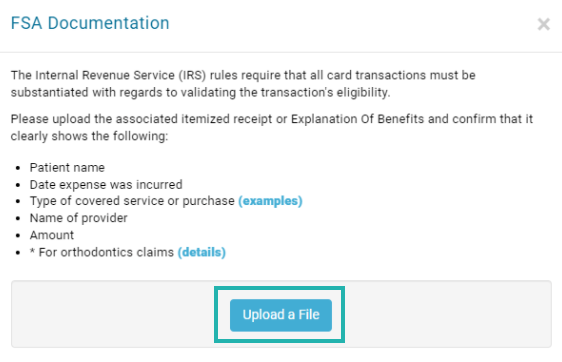 Note: If you don't have access to the EOB or itemized receipt, you will need to contact the healthcare provider and ask them for another copy.
4. Locate and select the file from your computer to upload.
Warning: The system doesn't allow you to resubmit files. Be sure to check the details of the file you're wanting to upload. The file details should relate to the expense.
5. Click Submit.
You successfully submitted documentation for your expense.
Information: Allow 3-5 business days for Ameriflex to process your document or additional document submission.
---
Submit an Orthodontia Claim Form
You can request reimbursement for orthodontia expenses by filling out and submitting a Ameriflex Orthodontia Claim Form. You may also be able to pay the provider directly using your Ameriflex Debit Mastercard® as a second option.
In either case, you must provide Ameriflex with a copy of the financial agreement/contract from the orthodontia provider. Ameriflex must have all of the following information in order to review your orthodontia claim:
Total cost of treatment
Amount covered by insurance
Down payment amount
Installment payment amount and frequency (Monthly/Weekly/Other)
Date treatment begins/began and estimated length of treatment
Note: If you are financing your orthodontic treatment through a third-party lender, you'll need to provide your agreement with them, in addition to the treatment plan/worksheet from your orthodontia provider.
Once you have gathered all the required information, you can upload and submit the Orthodontia Claim Form from your desktop.
1. Save the Ameriflex Orthodontia Claim Form to your desktop.
2. Fill out the form.
3. From your Ameriflex account, complete steps 1 through 5 (refer to Submit documentation section) to upload and submit the Orthodontia Claim Form for your orthodontia expense.
---
Related topics