The Internal Revenue Service (IRS) regulations require a 1099-SA issued for all individuals that have an active health savings account (HSA) with distributions processed within a calendar year.
1099-SA tax forms will be available online to Ameriflex HSA account holders by the IRS deadline of January 31st after the calendar year ends.
The Form 5498-SA is required to report the contributions to an individual's HSA account during the tax year. This form generates at the end of May in order to capture contributions made for the prior tax year and continues until the filing deadline for that year.
---
Complete the following steps to find the Tax forms and HSA statements you need:
1. Log into your Ameriflex account
2. Select MORE from the menu bar located at the top of the page.

A list of options appear.
3. Choose Statements & Downloads.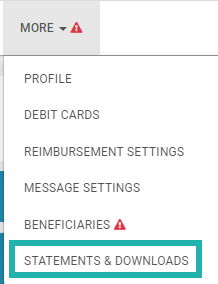 Information: Tax forms and Statements are available for download as PDFs.
4. Follow the prompts on your screen to download your 1099-SA and/or 5498-SA and HSA statements to your desktop.
5. Send the 1099-SA form to your tax advisor and remember to save the 5498-SA and Statements for your own records.